Bitcoin fell to a one-month low as cryptocurrency prices fell following Putin's decision to launch a military operation in eastern Ukraine, Zhitong Finance observed.
Following the Russian decision, Bitcoin was down 9.08% at $34,584 at press time. The second-largest cryptocurrency, Ethereum, plunged 13.01% to $2,311. Other currencies like XRP, Cardano and Solana also fell.
Amid escalating geopolitical tensions over the past few weeks, bitcoin's volatility has undermined the idea that the cryptocurrency offers a hedge in difficult times. Meanwhile, traditional safe-haven gold surged to its highest level since early 2021 on Thursday.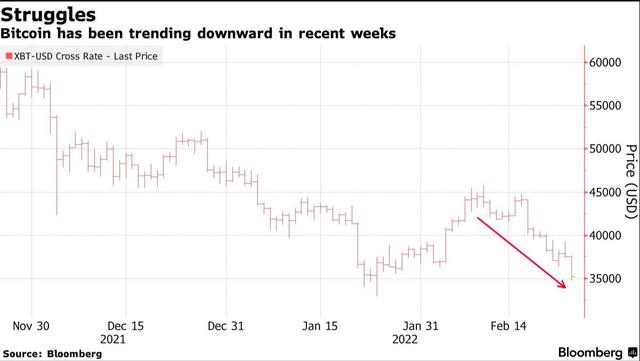 An industry source said: "Risk assets continue to be weighed down by the Russian-Ukrainian conflict and tensions. This includes bitcoin and cryptocurrencies, which are still considered high-risk asset classes for now. The next key level for bitcoin will be $28,000 to $2.9 $20,000. If that threshold is breached, we could see Bitcoin possibly plummet to sub-$20,000 price levels."