Bitcoin is about to trigger a massive asset reset, and capital inflows have only just begun.
Bitcoin's rise can't stop!
Bitcoin, which had just broken through the $20,000 mark on the previous session, continued to rise on Thursday, topping the $21,000, $22,000 and $23,000 levels in a row. At one point, it was trading at $23,447, before falling back to around $22,480.
The price of BTC has seen an increase of up more than 175% so far this year.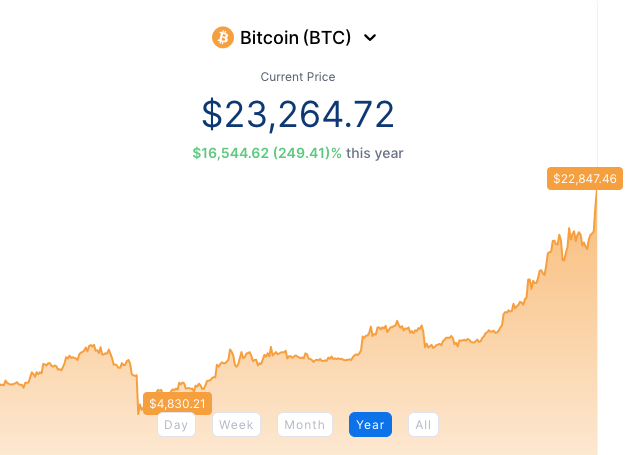 01 More and more Bitcoin whales are rising to the surface
There are growing signs that institutional money is making a big push into cryptocurrencies in the QE environment, fueling the bitcoin bull market.
The Grayscale Bitcoin Trust has more than doubled from $5.9 billion at the end of the third quarter to $12.1 billion now.
Coinbase, a bitcoin exchange, said its institutional assets under custody had risen from $6bn in April to $20bn in mid-November.
A growing number of bitcoin whales have surfaced, including blockchain investment funds Pantera Capital, Polychain Capital and Galaxy.
One River Asset Management recently told the media that its holdings of Bitcoin and Ether would reach about $1 billion by early 2021. The company is backed by billionaire Alan Howard.
Brevan Howard Asset Management acquired a 25 per cent stake in One River in October. Another of his companies, Elwood Asset Management, is providing trading services, market analysis and technology support to One River Digital.
Business intelligence firm MicroStrategy bought $250 million worth of Bitcoin in August and said it would use bitcoin as its main reserve asset to hedge against inflation. The company then bought $175 million worth of bitcoins in September and $50 million in December. The company also issued about $650 million in convertible bonds to raise cash to buy more bitcoins.
Longtime MicroStrategy investors may find themselves buying technology software stocks instead of bitcoin shadow stocks.
However, the shift in The MicroStrategy business appears to be delivering higher returns for investors. The company's shares have risen more than 100% since it first announced its purchase of Bitcoin in August.
02 Institutional investors join the blowout
Many prominent investors have also started to "blow" bitcoin's value and investment prospects.
Billionaire Paul Tudor Jones recently said he believes the current bitcoin rally is just the first round.
Rick Rieder, chief information officer for fixed income at blackrock, said bitcoin could even replace gold as a store of value because it has far more functions than gold bars.
Mr Bridgewater said he believed bitcoin and other cryptocurrencies had become "asset substitutes like gold". He also believes digital assets will have a place in investors' portfolios as a diversification tool.
Bill Miller, a value investor, thinks the risk of holding Bitcoin is lower now than ever before, and predicts that more institutions will participate over time.
03 Next step, $400,000?
So what's the next bitcoin price peak?
In December 2021, The price of bitcoin will hit $318,000, a super-bull market, citi said in a recent research paper bitcoin: Gold in the 21st Century. The reason is that there are obvious similarities between the gold market in 1970 and the bitcoin market today.
Scott Minerd, Guggenheim's chief investment officer, said his firm's fundamental analysis suggested bitcoin should be worth $400,000.
In an interview with Bloomberg on Wednesday, Dec. 16, he said the target price is based on two factors: the scarcity of assets and the relative valuation of bitcoin.
Bitcoin actually has a lot of gold properties, and it has an extraordinary value for transactions.
JP Morgan said the bull market in Bitcoin is not over and is adding to its bullish bets on the currency. Analysts such as Investment bank Nikolaos Panigirtzoglou have said in recent reports that bitcoin could continue to attract capital inflows in the medium to long term, at the expense of gold, as the currency gains traction in mainstream financial markets.